VietNam Overview
Official name: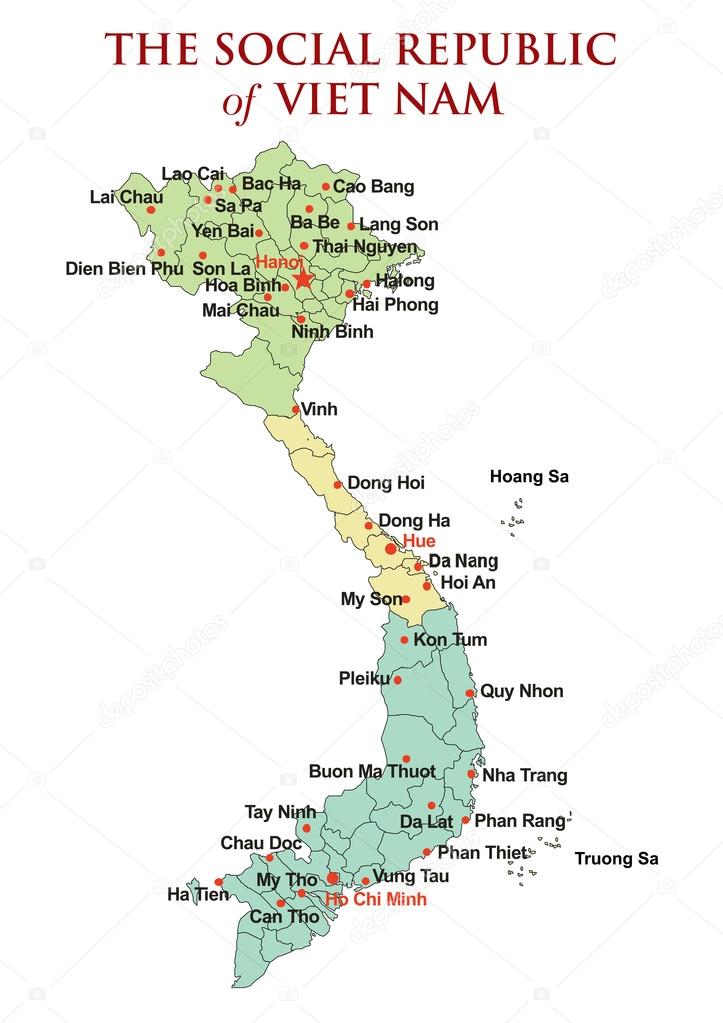 Area:331,690 square kilometers
 Population: 97 million (2019)
 Major religion: Buddhism
 Major language: Vietnamese
 Monetary unit: Dong
 International dialing code: +84
 The 5 largest cities of Vietnam: 
    (Municipalities of Vietnam)
   1 -Ho Chi Minh City             
   2 -Ha Noi 
   3 -Hai Phong
   4 -Can Tho
   5 -Da Nang 
*Geography: Vietnam is located on the eastern seaboard of the Indochina peninsula sharing common border with China to the north, and Lao and Cambodia to the West. To the east and south lies the East. Moutains and hills cover four- fifths of Vietnam's territory with the Truong Son range strecthing over 1,400 kilometers. Mountain Fansipan (3,143m) is the highest peak on mainland Southeast Asia. The most  populated areas in Vietnam are the Red River Delta in the North and Mekong Delta in the South, which  feature fertile soil fed by a dense river network. Vietnam's territorial water cover over 1,000,000 square  kilometers. Vietnam boasts a unique shape of an elongated S and a long coastline of 3,260km with a lot of wonderful sites
*Resource:
Minerals: coal, iron, aluminum, tin, and oil. Agricultural and forestry products: rice, maize, sweet patatoes, peanuts, soy beans, rubber, lacquer, coffee, tea, tobacco, cotton, coconut, sugar cane, jute, and tropical fruit.
*Climate & Weather:
Although Vietnam lies entirely within the tropics, the Vietnam's climate surprisingly varies from region to region with the annual average temperature from 22ºC to 27ºC because of its topography. The mountainous people of Sapa in the north might be seeking shelter from snow while the urban dwellers of Ho Chi Minh City in the south seek refuge from mid-day heat.
In the North (from Hai Van mountain pass in the middle of Vietnam to the North), it is the weather of four different seasons in a year: Spring, Summer, Autumn, and Winter. Spring lasts from February to April with warm weather. In Spring, it is characterized by fine drizzle that helps plants grow fast and flowers bloom brightly. Summer lasts from May to August with hot and showery weather. The sun shines almost days. And there are sometimes sudden thundershowers that make summer less hot and become cooler. Autumn lasts from September to November with cool air, and dry and lightly windy weather. It can be said that it is the most beautiful season in a year with yellow leaves falling on the streets and yellow bright shines in day time although sometimes typhoons threaten life and agriculture in the country. Winter lasts from November to January with cold and dry weather. It is the coldest season in a year. Frost and snow can also occur in the mountains (over 1000m above level sea), that make Vietnamese people eager to go up to see and take nice photos of such scare event of a year.
The southern region is predominantly sub-equatorial with two main seasons of wet rainy season and dry season. A wet rainy season ranges from April to September. It is often sunny in mornings and rainy in late afternoons. Showers often rain heavily but stop quickly. A dry season spans the months of October to May. The weather becomes hotter. The Sun shines all days. But it becomes so cool at night. Definitely, the weather is rather stable in the south.
*Administrative Division:
Vietnam has 63 provinces, including five municipalities (Hanoi, Hochiminh City, Haiphong, Cantho and Danang)
*History:
Vietnam's history can roughly be divided into the following periods:
+ Pre-history: From circa 400,000 years (Paleolithic) to 4,000 years (Neolithic) ago, cultures in the area included Son Vi, Hoa Binh, Bac Son, Ha Long and Hoa Loc.
+ Proto- history: Accoding to legends, Vietnam originated in the seventh century BC, King An Dương Vương named founded Âu Lạc and ruled until 179 B.C. Chinese occupation: Vietnam was occupied by China from the first to the tenth century A.D. Monachy: Kings reigned from 968- 1945.
+ Independence: The Democratic republic of Vietnam was founded after the 1945 August Revolution, when President Ho Chi Minh declared indepedence. The socialist Republic of Vietnam has been the official name since 1976.
*Vietnamese language:
Vietnamese language is difficult both to speak and understand. It can be traced to Sino- Tibetan as well as to Austro- Asiatic and Mon- Khmer origins. Under 9th- century Chinese domination, the ideograms the Chinese used were adopted for use with Vietnamese (although gratefully, a Latin- style based script was adopted during the early portion of this century, making the reading of maps and signs possible for hapless Westerners) The original chu nho ideograms were ultilized as the only form of communication up until the 20th century.
Vietnamese seeking to sever ties with the Chinese in the 13th century further complicated matters by taking the Chinese ideograms and adopting them for their own purposes. This was called chu nom, considered a 'vulgar' or gutter form of chu nho.
In the 17th century, European missionnary Alexandre-de-Rhodes mastered the Vietnamese language and actually created the first Romanized Vietnamese dictionary
The Vietnamses alphabet has 17 consonants, 12 vowels and nearly 20 double consonants. There are no prefixes and no suffixes. There is no use of plurals with nouns and there are double negatives that must be use to accomplish what Westerners can simplely do with a simple positive. 
*Ethnic group:
There are 45 ethnic groups living in Vietnam. The Viet (Kinh) people account for 88% of Vietnam's population and are mostly concentrated in the lowlands. Most of the country's 5.5 million ethnic minority people live in mountainous areas. Major groups include the Tay, the Nung, the Thai, the Muong, the H'Mong, the Dao, the Khmer...
*Religions:
Major spiritual influences in Vietnam include Buddhism, Taoism, Confucianism, and native religions (Ancestor, Morther Worship).Christianity arrived in the late 18th century and now has the second largest following, after Buddhism. Other religions practiced include Islam and Cao Dai, with higher concentrations in the South.
Food:
Eating out in Vietnam ranges from street food to fine dining in luxury hotels. Though from anywhere, it cannot be denied that Vietnamese food is tasty and healthy. It is often made by different kinds of vegetables. Rice is the staple cereal and fish-sauce "nước mắm" is extensively used. The most popular dish among the local people is the Phở - a noodle soup with meat, beef or chicken. The chicken soup (phở gà) or beef soup (phở bò) is quite spicy and available at all food stalls at US $0.60 per bowl. Phở Bò Tài is a soup with rare beef fillets. Another specialty is the spring roll, which is found in many versions, with varying ingredients used.The menu in restaurants is mainly non-vegetarian with dishes made from pork, fish and beef, snake and soft-shell turtle, which is considered a delicacy.Chè is a dessert made from sticky rice, beans, and a seasonal fruit. International cuisine such as French, Chinese, Japanese, Italian and American is also available.
Fruit smoothies made from seasonal fruits are popular. Fruits such as custard apple, sugar apple, banana, avocado, durian, strawberry, jack fruit, passion fruit, dragon fruit, lychee and mango can be found in fruit stalls. You will need to clean the fruit thoroughly before eating.
It is also recommended that you buy bottled water rather than drinking tap water. Don't miss out the bia hơi (meaning 'beer gas'), as the Vietnamese call draught beer. Imported brands such as Carlsberg, San Miguel and Heineken are available along with local brands such as Tiger, Saigon, and 333 (pronounced "ba-ba-ba")
*Public Holidays:
- 01January: New Year's Day
- 01-03 Jan: (Lunar Calenda) Tet Holiday (Vietnamese New Year)
- 03 Feb: Anniversary of the Founding of Vietnamese Communist Party
- 10 Apr: (Lunar Calenda) Hung King Temple Festival
- 30 Apr: Liberation Day (The day on which Saigon surrendered- 1975)
- 1 May: International Labour's Day
- 19 May: Hochiminh's birthday (1890)
- 8th day of 4th moon (Usually in Jun):  Buddha's Birthday
- 02 Sep: Vietnam National Day 1945
- 25 Dec: Christmas Day
*Note: When a public holiday fall on Saturday and/or Sunday, then the Monday following the holiday is substituted.
*Your passport to health in Vietnam:
*Health:
*Mosquitoes: When outside, wear long sleeves and long pants after dart. Repellents are available locally and mosquito nets should be used at night if mosquitoes are present. Malaria and dengue fever are problems in certain areas.
Rabies: Beware of dogs, cats and monkeys, they might bite. If bitten, consult a doctor and try to locate the owner of the animals so it can be tested. Post exposure vaccines are available  at any clinics in towns.
*Diarrhoea: This is a common in Viet Nam. If it occurs, maintain a diet of bland foods or fluids only. Keep fluid intake high to avoid dehydration. If severe,consult a doctor.
Sunburn: Even in cloudy cold weather, sunburn can occur. Wear suncream with SPF-15 or above for long hours in the sun. In case of sunburn, treat by taking a cool bath, staying out of the sun and drinling plenty of fluids.Avoid alcohol- it causes dehydration.
*Immunizations: The most frequent infections in travellers for which vaccines are available are hepatities A and typhoid fever. Hepatities B is of hight incidence in Viet Nam, and tetanus remains a concern. When travelling to high risk areas, Japanese B encephalitis prevention is recommended.
*Getting Around
*Safety: Traffic accidents are the simple largest health concern in Viet Nam. Helmets should be worn when riding motorbikes or bicycles, whether you are the passenger of the rider. Be sure your insurance covers you as a driver in Viet Nam. If not, do not ride a motorbike, it could nullity your insurance coverage. Seat belts should be worn at all time in cars.
Eating & Drinking
*Water: Don't drink from the tap, and brush your teeth with safe water(in your hotel). But drink much boiled or bottled water on a daily basic to stay hydrated. Also drink fruit juices with ice cubes made from boiled or bottled water.
*Food: Eat in clean establishments. fruits and vegetable should be washed or thoroughly clean and cooked. precook foods in street stalls should be completely advoided. All meat and fish should be thoroughly cooked. Remember while local dishes are a delightful treat, contaminated food and drink can cause vomiting, diarrhoea and other related bacterial infection.
Social: